They say beginnings are difficult. I, however, instead remember the creation of CBLingua to be one of the most satisfying and agreeable that I have experienced both on a personal and professional level. I had just completed my studies at the University of Granada, at the Faculty of Translation and Interpretation when I had the good fortune of finding my first work position at the Naval Base Airport in Rota as a ground hostess. It was there that the idea came to me to pursue the creation of my own sworn translation firm: CBLingua, an acronym comprising of the initials of my name Carolina Balsa and Lingua.
Beginnings
To start with, the only resources which CBLingua had at its disposal were the strictly necessary. Little more was required for launch than a good computer, a phone, and an internet connection. We chose to base the very first CBLingua office from a bedroom supplied by my parents, my greatest and most loyal fans, the kind who would follow you to the end of the world if you asked them to without expecting anything in return. I still remember those first few days, when they were sure that CBLingua would become a big translation firm. Standing here twenty years later, I can say without a doubt that their belief was the greatest of all my motivations, and I have reached where I am because they have been my source of inspiration and my role-models.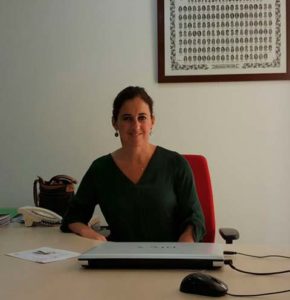 Nowadays CBLingua serves as much more than a translation firm, given that the impact of our work proves essential to the functionality of many companies. The words 'commitment' and 'dedication' have been our bywords from the very beginning.
After more than seventeen years of professional experience, I still feel as surprised as I did on that very first day. It is incredible how many great people have made an impact on the history of CBLingua. To everyone who has participated in life here at CBLingua through the years, thank you. To our dear interns, some of whom have completely swept us off our feet, and above all to the professional personal team at all our offices who commit themselves every day, headed by Laura Balsa Cirrito, my sister. Thank you from the depths of my heart. This is, without a doubt, the greatest of all that we cherish and value here, and the key to our success in becoming the large company we are today.
Carolina Balsa Cirrito
Director General and Founder