What is a sworn or official translator?
A Sworn Translation or Official Translation is a translation signed and sealed by a Sworn Translator. According to Spanish legislation, it is compulsory that all documents not written in the Spanish language which are designated for a legal purpose in Spain be accompanied with a corresponding Sworn Translation.
A sworn translator is a translator who has been licensed by the Ministry of Foreign Affairs and whose seal and signature confirms the legitimacy of a foreign document. All translations conducted by a sworn translator holds official status before legal authorities and public bodies.
When is a sworn translation and sworn translator required?
A Sworn or Official Translation is needed for documents written in a different language designated with a legal purpose to be effected before an official body . An Official Translation is always sealed and signed by a Sworn Translator and holds official status before the authorities.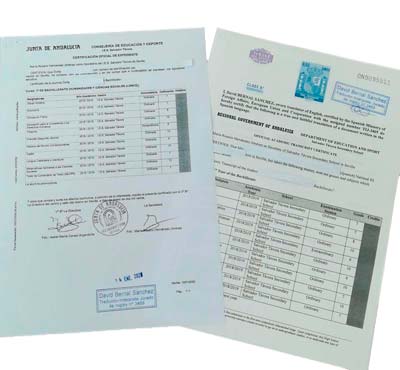 What is a Sworn or Official Translator?
A sworn translator is one who has been authorized by the Ministry of Foreign Affairs whose seal and signature confirm the veracity of a foreign document. All their translations hold official status before legal authorities and public bodies.
The translator can depend equally on their understanding of legal and economic fields on a terminological and phraseological level. As a result, they are able to carry out translations of any type of legal document, whether it be a birth certificate, marriage certificate, contract, patent, notarized power of attorney, corporate by-laws, etc.
Presently, the concept of the Official Translator is taking on a very important role in our society due to the current economic situation, in which the globalization of firms and the the free market have produced a great demand for legal translations.
How do I have a sworn translator appointed?
Send your document
Send us the document in a digital format, be it a scanned copy or a high-resolution photo, to the following email address info@cblingua.com, or info@traductoresoficiales.es
Confirm the quote
A quote will be sent to you on the same day with all the necessary details to complete the bank transfer. Once the invoice is accepted and paid we will proceed with a sworn translation of the document.
Receive your translation
Once the invoice has been accepted and the payment has been made, the only thing left to do is wait until the arranged delivery date. We will send you the sworn translation in a digital format verified by the sworn translator.
What are the most requested types of document?
COURT ORDERS AND RESOLUTIONS
DEGREES AND ACADEMIC CERTIFICATES
COURSES, ACCREDITATIONS AND ACHIEVEMENTS
DIVORCE, MARRIAGE ANNULMENT and separation CERTIFICATES