This week the Malaga Film Festival has started once again, returning for the 22nd time, and you can really feel the glitz and glamour in the air.
This year the festival runs from 15th-24th March, and it has completely taken over Malaga, totally changing the landscape of the city centre in the process.  The Cervantes Theatre looks like it´s been taken straight out of LA with a red carpet, barriers, and media section; a huge projection screen and seats set up in Plaza de la Constitución, with screenings of hot, new Spanish movies; and a huge red carpet down Calle Larios, so everyone can feel like an A-lister.
Since the first time the annual film festival was held in 1998, every year the leaders of the Spanish and Latin American film industry descend on the capital of the Costa del Sol, filling the theatres to watch the screenings of the very best that Spanish and Latin American cinema has to offer from the past year.
The festival of "cinema in Spanish" was established to promote Spanish (and more recently, Latin American) cinema, and this year over 200 films from 26 countries comprise the festival line-up.  Out of these 200+ films shown this year, only 22 titles are nominated to receive the prestigious Biznaga de Oro for Best Picture, amongst these 13 from Spanish directors, and 9 from Latin American directors.
 Awards and participants in the Malaga Film Festival
Alongside the Biznaga de Oro for Best Picture, various other prizes will be given at the awards ceremony.  Amongst these, there is the Premio Málaga, who is expected to go to actor Javier Gutierrez, for his unforgettable performance in last year´s box office hit in Spain, Campeones.  Another prestigious award is the Premio Retrospectiva, which is like a lifetime achievement award, and is expected to go to Argentinian actress and ´Almodóvar girl´ Cecilia Roth, to celebrate all her incredible work.
One of the major talking points of the festival this year is the inclusion of two new original Netflix films: ¿A quién te llevarías a una isla desierta? (Jota Linares) and A Pesar de Todo (Gabriela Tagliavini), with the former even being one of the contenders for the Best Picture.  The inclusion of these films in the festival highlights the not only the importance of streaming services such as Netflix for the international film industry, but it also highlights Netflix´s emergence as a producer of award-worthy films.  As a student of Spanish, Netflix has always been a reliable and accessible source of quality Spanish-speaking films and movies, both for pure entertainment, as well as to help with revision.  And so, the increased partnership between Netflix and Spanish-speaking directors excites me, as it promises the development of the Spanish and Latin American film industries, even as the format of the film industry as a whole is changing.
Given it´s growing prestige, the festival brings many celebrities to Malaga Film Festival, and although the VIP guest list has not yet been revealed, a throng of famous celebrities are expected to attend, including Hollywood actor, Antonio Banderas, who makes an annual appearance at the glamorous event held in his home city.  Élite and La Casa de Papel actors Jaime Lorente and María Pedraza are also expected to attend, to promote their new Netflix film, and as a huge fan of theirs, I can tell you now, I´ll be at the barriers screaming their names, begging to get a picture with them!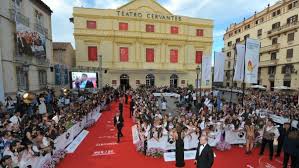 With such an international event, Malaga is put at the forefront of the film industry, attracting an increasingly international audience. Therefore, in an international environment such as Malaga Film Festival, there is undoubtedly the need for translation or interpreting services, such as those offered by CBLingua.  Translation and interpreting is one of the most varied lines of work there is, and with the aforementioned rise of international productions from streaming systems such as Netflix, which are readily available worldwide, translation has become crucial.  The translation of scripts or subtitles brings movies to new audiences; on-set interpreters can help cast and crew from different cultures communicate across language barriers; native advisors can help with cultural accuracy – the list goes on.
However, it is not only the influence of the Film Festival that has resulted in an increasingly international presence in Malaga.  For years now, there has been a large foreign population who live and work (or study) here, and that population keeps on growing.
One of the first things I noticed about Malaga when I first arrived, was as I walked through the streets, not only would I hear Spanish in the lovely local malagueño accent, but also English, Dutch, French, and Arabic, just to name a few.  Ranging from the large Erasmus community who live here temporarily, to the various expats who have created a completely new life here, there is a huge international community, which is where the need for a business such as CBLingua come in.  Moving countries obviously involves a huge amount of bureaucracy, and therefore increases the need for sworn translations.  CBLingua have a team of  sworn translators who are very accustomed to translating documents such as penales, degree certificates, passports, or any document you need.
Through the trend of increasing globalisation and movement of people worldwide, the importance of sworn translation will only grow and grow, and therefore, so does the need for the services we offer.  With our large, varied, and skilled team of translators, here at CBLingua, we welcome the increased demand for translation that comes with increased movement of people, and we will always offer professional and efficient assistance to help you with your needs.